UFSC Heroes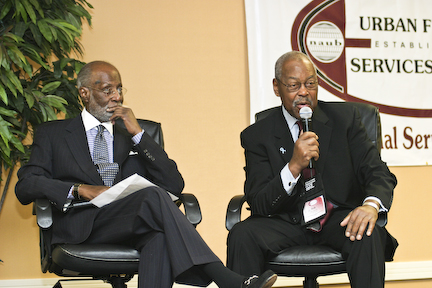 Robert J. Samuels was a pioneer in the financial services industry and founding President of the Urban Financial Services Coalition (formerly known as the National Association of Urban Bankers).
Born in Philadelphia, PA, Mr. Samuels overcame poverty, racism, and bigotry to create a successful career in the financial services industry. He began his banking career in 1964 at First Pennsylvania Bank and, in 1969, moved to New York City to join Manufacturers Hanover Bank's Commercial Lending Training Program. He attended the American Institute of Banking, New York Institute of Credit, and graduated from Rutgers University's Stonier Graduate School of Banking. Mr. Samuels retired in 1992 as Vice President of the Global Financial Institutions Group, a division of Manufacturers Hanover's Corporate Banking and International Sector (JPMorgan Chase).
Mr. Samuels was also the founding President of the New York City Urban Bankers Coalition. In 1984, the National Association of Urban Bankers honored him by renaming the "Outstanding Banker of the Year Award" to the "Robert J. Samuels Founder's Award". In 1998, the Urban Bankers Coalition further honored him by having his likeness placed in the Baltimore Great Blacks in Wax Museum. In December of that year, he was also inducted into the Black Hall of Fame in Philadelphia.
In 1992, Mr. Samuels moved to Tampa, FL, and in 1994, he founded the Tampa Bay Men's Cancer Task Force. In 1996, he served as the Founding Chairman for the National Prostate Cancer Coalition. The following year, he was appointed to the National Cancer Institute's Prostate Cancer Progress Review Group. In 1998, he served as a member of the U.S. Army's Prostate Cancer Research Panel and was appointed to the Florida Prostate Cancer Task Force. During this period, he also founded the Florida Prostate Cancer Network (FPCN). Today, FPCN serves as a model prostate cancer state coalition recognized by numerous agencies, including the Florida Legislature, the Florida Department of Health, and the Florida Agency for Healthcare Administration.
Robert J. Samuels died on November 18, 2012.
Nathaniel Carroll Harris, Jr. was born on January 1, 1941, in Hackensack, New Jersey. He grew up in Montclair, NJ, attended Glenfield Elementary School and graduated from Montclair High School in 1959. He went on to Hampton University and graduated in 1964 with a Bachelor of Science in Architecture. While attending Hampton, Mr. Nathaniel pledged into the Omega Psi Phi Fraternity. He was a member of the ROTC, and upon graduation, Nat entered the United States Army.
Mr. Nathaniel later attended Pace University, where he received an MBA in Management and Finance from the Lubin School of Business. He was one of the first African American men to achieve success in upper management in the banking industry. His career spanned over 35 years in financial services before his retirement as a Senior Vice President at PNC Bank in 2004.
Mr. Nathaniel's professional, civic, cultural, and social organizations included: founding member and past President of the Urban Financial Services Coalition (formerly known as the National Association of Urban Bankers), Member of the Neighborhood Housing Services of New York City, former Vice-Chairman of the Board of Trustees of Bloomfield College, President Emeritus of the Board of Trustees of the Montclair Art Museum, Trustee of Drumthwacket Foundation, Trustee of the NJ Theater Alliance and Director, and Executive Committee member of the Greater Newark Business Development Consortium. He was acknowledged in Who's Who Among Black Americans, Who's Who in the East, and Who's Who in Industry and Finance.
Mr. Nathaniel loved his community and his friends. He had a winning personality. People gravitated and loved to be in his presence. He had the ability to relate to anyone interested in engaging in good conversation. He was an avid reader with a voracious appetite for current events and world affairs. He had a memory that could give names, dates, times, and places of occurrences as far back as when he was a child. He often told many stories about his grandfather and growing up during the Civil Rights Era. He was a great spokesperson and outstanding communicator. He was also a great educator because he was able to impart knowledge on a variety of subjects. Mr. Nathaniel mentored many people who came to him for assistance and advice. He was truly a "renaissance man."
While attending Hampton University, Mr. Nathaniel met his wife, Frazeal Larrymore. They are the parents of one daughter and grandparents to two grandsons.
Nathaniel Carroll Harris, Jr. died in April 2009.