UFSC-GKC Annual Holiday Reception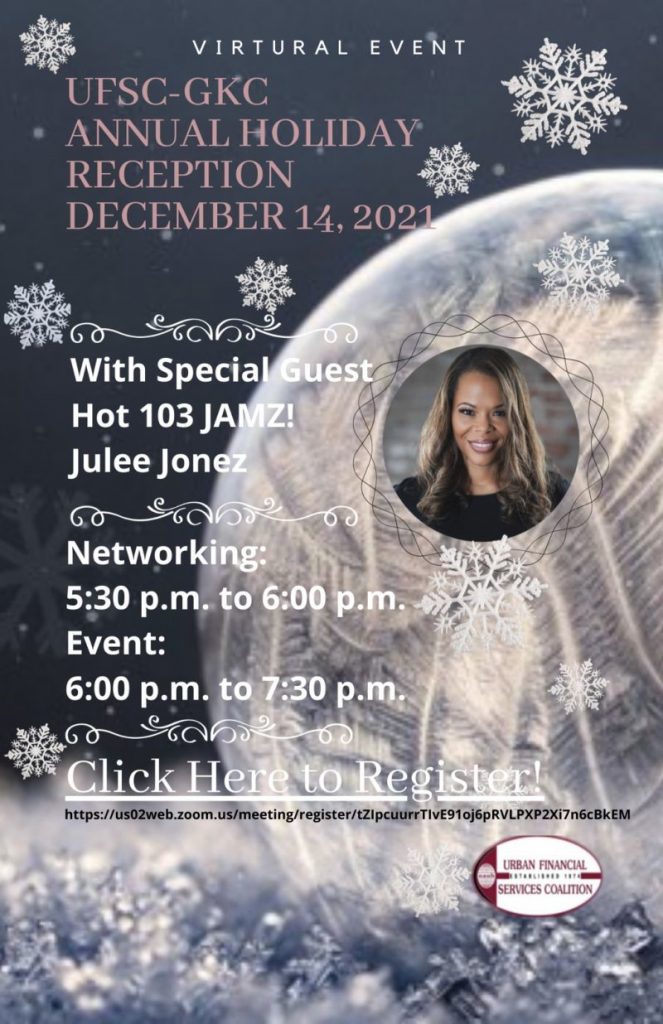 Urban Financial Services Coalition – Greater Kansas City Chapter (UFSC-GKC) invites you to its Annual Holiday Reception, Tuesday, December 14, 2021, 5:30 pm to 7:30 pm, Central Standard Time.
Even though, this year the event will take place virtually, the great networking with executives, business owners and leaders; inspiring and motivating messages from leaders; awarding of scholarships and recognizing of the young people on the move; and celebration of the UFSC-GKC will still take place.
If I am in Richmond, VA, Washington DC, San Francisco, Omaha, Detroit, Baltimore, or anywhere outside of Greater Kansas City Market, can I attend? Absolutely! Everyone is welcome to attend. 
Special Guest:
Julee Jonez is a Radio Personality in Kansas City, Missouri. Born and raised in Kansas City, Missouri. Although she initially wanted to study accounting in college, after attending an open house that presented various majors offered at her school, Julee decided to see how she would enjoy Broadcasting and Film. After one class, she was hooked! When she decided to finish her undergraduate studies at the University of Missouri- Kansas City, she did various internships but as destiny would have it, her last internship was at KPRS Hot 103 Jamz. Unbeknownst to her at the time, KPRS would eventually be where her radio began and would continue for years to come. Julee has used her sphere of influence in community service, mentoring youth, and high school youth ministry efforts.
Julee is praying that God will continue to bless her with vision and imagination for future literary works and open doors for more public speaking opportunities. Julee has passion for speaking to young women about bouncing back from a problem some past, having healthy self-esteem, and how God uses all things for His glory when you give your life to Him. Julee is also a member of Alpha Kappa Alpha Sorority, Incorporated.
Date: Tuesday, December 14, 2021
Time: Networking 5:30 pm to 6:00 pm, Central Standard Time
Event: 6:00 pm to 7:30 pm, Central Standard Time
Register: https://bit.ly/3Ihmbfy
Platform: Zoom
To learn more about UFSC Greater Kansas City Chapter, visit www.ufsckansascity.org
To learn more about UFSC, visit www.ufscnet.org